摘要:随着SSD技术的成熟,SSD的使用越来越普遍。要提高计算机的速度,可以尝试在SSD上安装操作。然而,并非所有SSD都适合连接到您的计算机设备。在您购之前,一些基本的信息应该首先要知道,例如:SSD有哪些接口类型。...
随着SSD技术的成熟,SSD的使用越来越普遍。要提高计算机的速度,可以尝试在SSD上安装操作。然而,并非所有SSD都适合连接到您的计算机设备。在您购之前,一些基本的信息应该首先要知道,例如:SSD有哪些接口类型。
按照以下说明确定SSD接口类型,但如果您在理解时遇到困难,请下载HD Tune Pro以获取帮助。
SSD的接口类型
到目前为止,SSD常用的接口类型有U.2、SATA、PCI Express、SATA Express、mSATA、M.2和SAS。
1. U.2
U.2 called SFF-8639 in the past, with 2.5 inches interface. It has a tremendous transfer speed but costs an arm and a leg. So U.2 interface doesn't popularize and fewer devices supported. U.2 SSD interface bandwidth goes PCI-E 3.0 x4 channels and supports the NVMe standard protocol.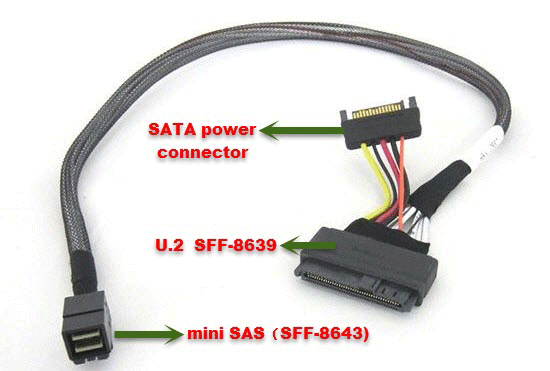 One end connects to the motherboard, called mini SAS(SFF-8643) connector.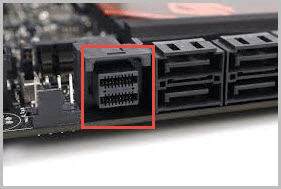 The other end with two interfaces connects to the U.2 SSD. The small one called SATA power connector and another one called U.2 SFF-8639 connector.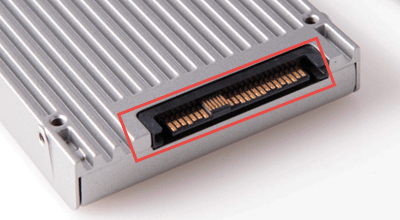 Some manufacturers, for instance, Asus, MSI, GIGABYTE Technology, have declared that their motherboards support U.2 interface. As U.2 SSD, we recommend Intel SSD 750 series.
Bandwidth: U.2 interface bandwidth goes PCI-E 3.0 x4, theoretical transmission speed up to 32Gbps.
NVMe: U.2 supports NVMe.
2. SATA
SATA is the abbreviation of Serial Advanced Technology Attachment, a type of the computer bus line. It takes charge of data transmission between motherboard and mass storage device like hard drive and DVD, mainly used in personal computers.
Note: You can refer to how to install a new SSD to Windows desk computer and finish yourself.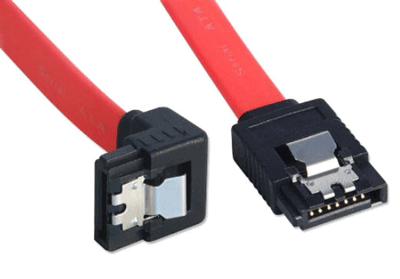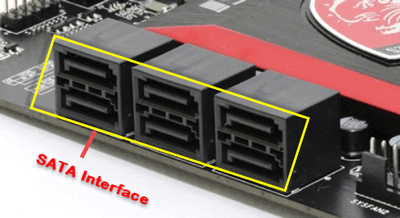 Bandwidth: SATA has three specifications so far: SATA 1.0 (1.5 Gbps), SATA 2.0 (3.0 Gbps) and SATA 3.0 (6.0 Gbps).
NVMe: SATA interface doesn't support NVMe.
3. PCI Express
PCI Express, officially abbreviated as PCIe or PCI-e, is one of PCI bus standards. It has four bandwidths: X16, X8, X 4, and X1. PCIe X4 is the commonly used one in PCIe interface of SSD. In traditional SATA SSD, when we do read-write manipulation, data would be read from SSD to the memory then calculated in CPU. After calculation, write it to memory then store into SSD. However, PCIe is different, connects to CPU with bus line directly. Therefore, PCIe is more efficiency in data transmission.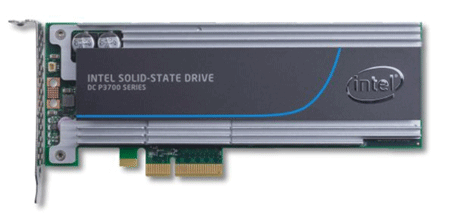 Bandwidth: Bandwidth: For most PCIe SSDs generally use PCIe X4 interface. PCIe 3.0 X4 has reached 32Gbps.
NVMe: NVMe devices are available on various physical slots that support the PCIe bus.
The picture below shows PCI Express expansion slot on the motherboard.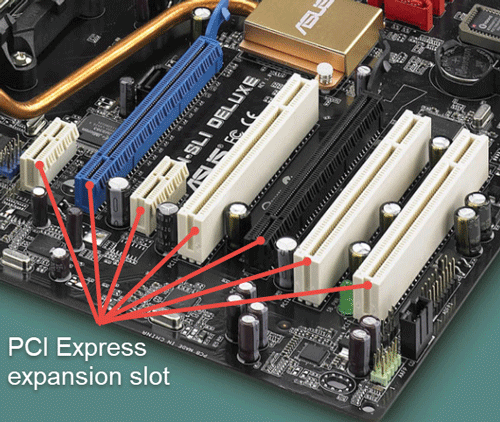 4. SATA Express
SATA Express is high-speed computer bus interface that basics on SATA and PCIe.
SATA Express cable: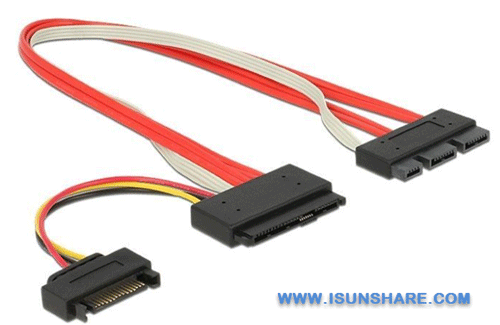 SATA Express interface on the motherboard: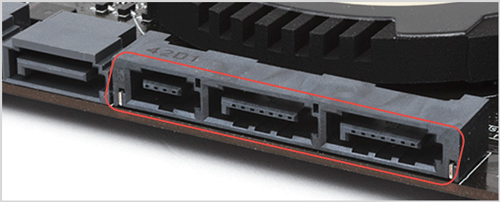 Bandwidth: speed up to 16Gbps.
NVMe: PCIe-based SATA Express supports NVMe.
5. mSATA
mSATA, also known as mini-SATA, is manufactured to fit portable devices. Nevertheless, it still takes up SATA channel and transmits speed is 6Gbps as well. So, it has not been fired up but replaced by M.2 interface with more upgrade potential.
Bandwidth: up to 6Gbps.
NVMe: mSATA doesn't support NVMe.
Compare mSATA to SATA, the type of SSD above is mSATA and the below one is SATA.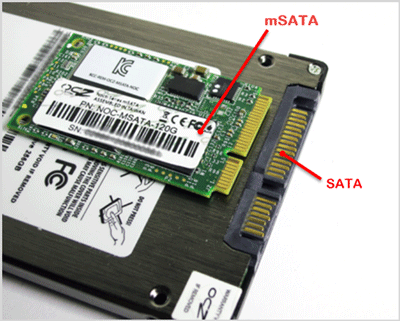 6. M.2
M.2 formally known as NGFF, it is a new generation interface first made for Ultrabook. It replaces the mSATA standard and competes with U.2. M.2 interface simultaneously supports PCIe and SATA channels. Due to the limitation of SATA, lots of motherboard manufactures reserve M.2 interface.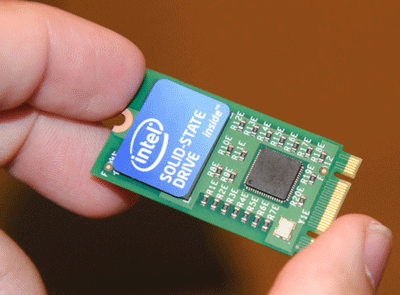 Notch: M.2 has three types of notch and they are B, M, and B + M.
Bandwidth: The speed of M.2 with B or B + M notch is up to 16 Gps and speed of M.2 with M notch up to 32 Gbps.
NVMe: M.2 supports NVMe as PCI Express SSD's logical device interface. Compare to AHCI, SSD with NVMe has a significant improvement in performance.
7. SAS
SAS interface mainly goes to the enterprise market. It is a new generation of SCSI technology and sale price is high as well. The SFF8482 connector allows SATA devices to connect to the SAS controller, but the SAS device cannot connect to the SATA controller. SAS mainly uses to connect hard drive and CD-ROM to the motherboard.
Bandwidth: SAS-1: 3 Gbps (2005);
SAS-2: 6 Gbps (2009);
SAS-3: 12 Gbps (2013);
SAS-4: 22.5 Gbps (2017).
NVMe: SAS doesn't support NVMe.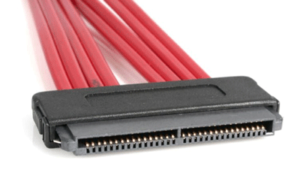 原文来源于:https://www.isunshare.com/blog/u-2-sata-pci-express-sata-express-msata-m-2-sas-ssd-interface-best/
---------------------------------- THE END ----------------------------------